Movies Where The World Ends – There are some movies where you can see the ending of world and life. These are thrilling and sometimes people have fear thinking as if it will be real.
Before 2012, there was rumour that the world will end by 2012 AD. After 2012 AD, it became clear that it is just a movie.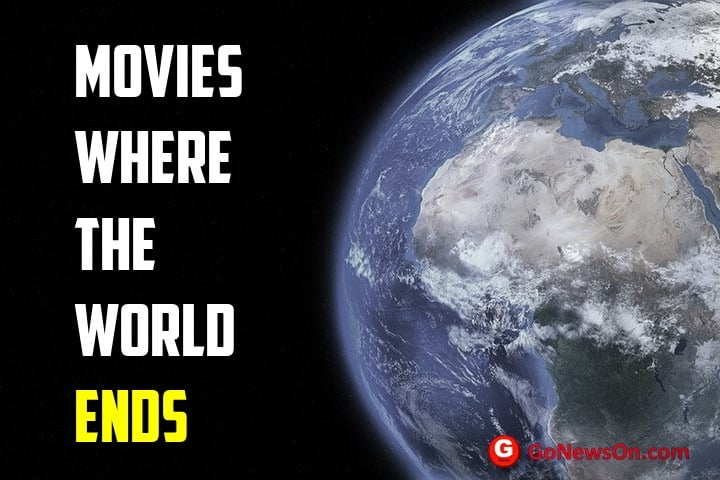 10 Movies Where The World Ends
Intersteller – 2014
With our time on Earth coming to an end, a team of explorers undertakes the most important mission in human history: traveling beyond this galaxy to discover whether mankind has a future among the stars.
From acclaimed filmmaker Christopher Nolan ("The Dark Knight" films, "Inception"), "Interstellar" stars Oscar winner Matthew McConaughey ("Dallas Buyers Club"),
Oscar winner Anne Hathaway ("Les Miserables"), Oscar nominee Jessica Chastain ("Zero Dark Thirty"), Bill Irwin ("Rachel Getting Married"), Oscar winner Ellen Burstyn ("Alice Doesn't Live Here Anymore"),
and Oscar winner Michael Caine ("The Cider House Rules"). The main cast also includes Wes Bentley, Casey Affleck, David Gyasi, Mackenzie Foy and Topher Grace.
Directed by Christopher Nolan, the film is written by Jonathan Nolan and Christopher Nolan. Emma Thomas,
Christopher Nolan and Lynda Obst produced "Interstellar," with Jordan Goldberg, Jake Myers, Kip Thorne and Thomas Tull serving as executive producers.
2012 – 2009
Never before has a date in history been so significant to so many cultures, so many religions, scientists, and governments.
2012 is an epic adventure about a global cataclysm that brings an end to the world and tells of the heroic struggle of the survivors.
Directed by Roland Emmerich. Written by Roland Emmerich & Harald Kloser.
Produced by Mark Gordon, Harald Kloser and Larry Franco
Cast includes John Cusack, Chiwetel Ejiofor, Amanda Peet, Oliver Platt, Thandie Newton with Danny Glover and Woody Harrelson
Seeking a Friend for the end of the World
Seeking a Friend for the End of the World:
As an asteroid nears Earth, a man finds himself alone after his wife leaves in a panic.
He decides to take a road trip to reunite with his high school sweetheart. Accompanying him is a neighbor who inadvertently puts a wrench in his plan.
Regie: Lorene Scafaria
Cast: Keira Knightley, Steve Carell, Connie Britton, Adam Brody, Rob Corddry (Warren)
These Final Hours
A self-obsessed young man makes his way to the party-to-end-all-parties on the last day on Earth, but ends up saving the life of a little girl searching for her father. Their relationship ultimately leads him on the path to redemption.
The Movieclips Trailers channel is your destination for the hottest new trailers the second they drop.
Whether it's the latest studio release, an indie horror flick, an evocative documentary, or that new RomCom you've been waiting for, the Movieclips team is here day and night to make sure all the best new movie trailers are here for you the moment they're released.
In addition to being the #1 Movie Trailers Channel on YouTube, we deliver amazing and engaging original videos each week.
Watch our exclusive Ultimate Trailers, Showdowns, Instant Trailer Reviews, Monthly MashUps, Movie News, and so much more to keep you in the know.
Here at Movieclips, we love movies as much as you!
This Is The End
Release Date: 12 June 2013 (United States)
THIS IS THE END follows six friends trapped in a house after a series of strange and catastrophic events devastate Los Angeles.
As the world unravels outside, dwindling supplies and cabin fever threaten to tear apart the friendships inside.
Eventually, they are forced to leave the house, facing their fate and the true meaning of friendship and redemption.
Genre: Comedy
Cast: James Franco, David Krumholtz, Danny McBride, Jay Baruchel,
Directors: Seth Rogen, Evan Goldberg
Writers: Seth Rogen, Evan Goldberg
Last Night
Set in New York City, Last Night is the story of a married couple that while apart for one night, is confronted by temptation that may decide the fate of their marriage.
Joanna (Academy Award nominee Keira Knightley) and Michael Reed (Sam Worthington) are 7 years into a successful and happy relationship.
They are moving along in their lives together until Joanna meets Laura (Eva Mendes), the stunningly beautiful work colleague whom Michael never mentioned.
While Michael is away with Laura on a business trip, Joanna runs into an old but never quite forgotten love, Alex (Guillaume Canet) and agrees to have drinks with him.
As the night progresses and temptation increases for the couple, each must confront who they are inside and outside of their relationship.
Last Night is ultimately a film about choices – the choice you make to be with someone, to give yourself physically and emotionally, and how to survive all three
Melancholia
It Will Change Everything
In this beautiful movie about the end of the world, Justine (Kirsten Dunst) and Michael (Alexander Skarsgård) are celebrating their marriage at a sumptuous party in the home of her sister Claire (Charlotte Gainsbourg), and brother-in-law John (Kiefer Sutherland).
Despite Claire's best efforts, the wedding is a fiasco, with family tensions mounting and relationships fraying.
Meanwhile, a planet called Melancholia is heading directly towards Earth… From acclaimed director Lars von Trier MELANCHOLIA is the most stunning and compelling film of the year.
IN CINEMAS DECEMBER 15 2011
Official Website: http://www.melancholiathemovie.com.au
The Cabin In The Woods
Five friends go to a remote cabin in the woods. Bad things happen. Starring Chris Hemsworth and Jesse Williams
CabinInTheWoods
If you think you know this story, think again. From fan favorites Joss Whedon and Drew Goddard comes THE CABIN IN THE WOODS, a mind blowing horror film that turns the genre inside out.
Produced by Whedon and directed by Goddard from a script by both, the film stars Kristen Connolly, Chris Hemsworth, Anna Hutchison, Fran Kranz, Jesse Williams, Richard Jenkins and Bradley Whitford.
Dr. Strangelove
Check out the official Dr. Strangelove or: How I Learned to Stop Worrying and Love the Bomb (1964) trailer starring Peter Sellers! Let us know what you think in the comments below.
Starring: Peter Sellers, George C. Scott, Sterling Hayden
Directed By: Stanley Kubrick
Synopsis: An insane general triggers a path to nuclear holocaust that a war room full of politicians and generals frantically tries to stop.
What are the list of movies where the world ends?
Intersteller
2012
Seeking a Friend for the end of the world
These Final Hours
This is the End
Last Night
Melancholia
The Cabin In The Woods
Dr. Strangelove
You May Like
Helps us add more Movies Where The World Ends.