If the world is meant to be known, perceived, and observed in its rawest form, Chaitanya Tamhane's craft of storytelling is the apt lens to do so. The filmmaker who earned rave reviews with the 2014 courtroom drama 'Court', is currently basking in the success of his latest creation 'The Disciple'. The movie, which won the Best Screenplay award at the 77th Venice International Film Festival, was also
the first Indian film to compete at Venice since Mira Nair's 'Monsoon Wedding'.
Both 'The Disciple' and 'Court' have paved the road for independent cinema in a country where commercial content rules. In an exclusive chat with ETimes, Chaitanya speaks about his latest outing 'The Disciple', the thought process behind it, and what he learned from Alfonso Cuaron. Read on:
'The Disciple' is a very sensitively observed portrait of the compromises an artist makes in bridging the gap between traditional and contemporary. What was your creative process in approaching that subject?
That's true. I started off as an investigative journalist, but at the same time, I also had the curiosity of a child in wanting to research this subject, immerse myself, and know more about all the stories, secrets, and romantic notions that surround this world. For somebody, who's a complete outsider, those were like the obvious entry points for me. And that's how I started.

I am somewhat like Sharad in a way, where I am full of rose-tinted notions in my head (smiles); and as a wide-eyed boy, I started peeling these layers in a way to go deeper into that world which made me realise there are lots of commonalities with other art forms as well.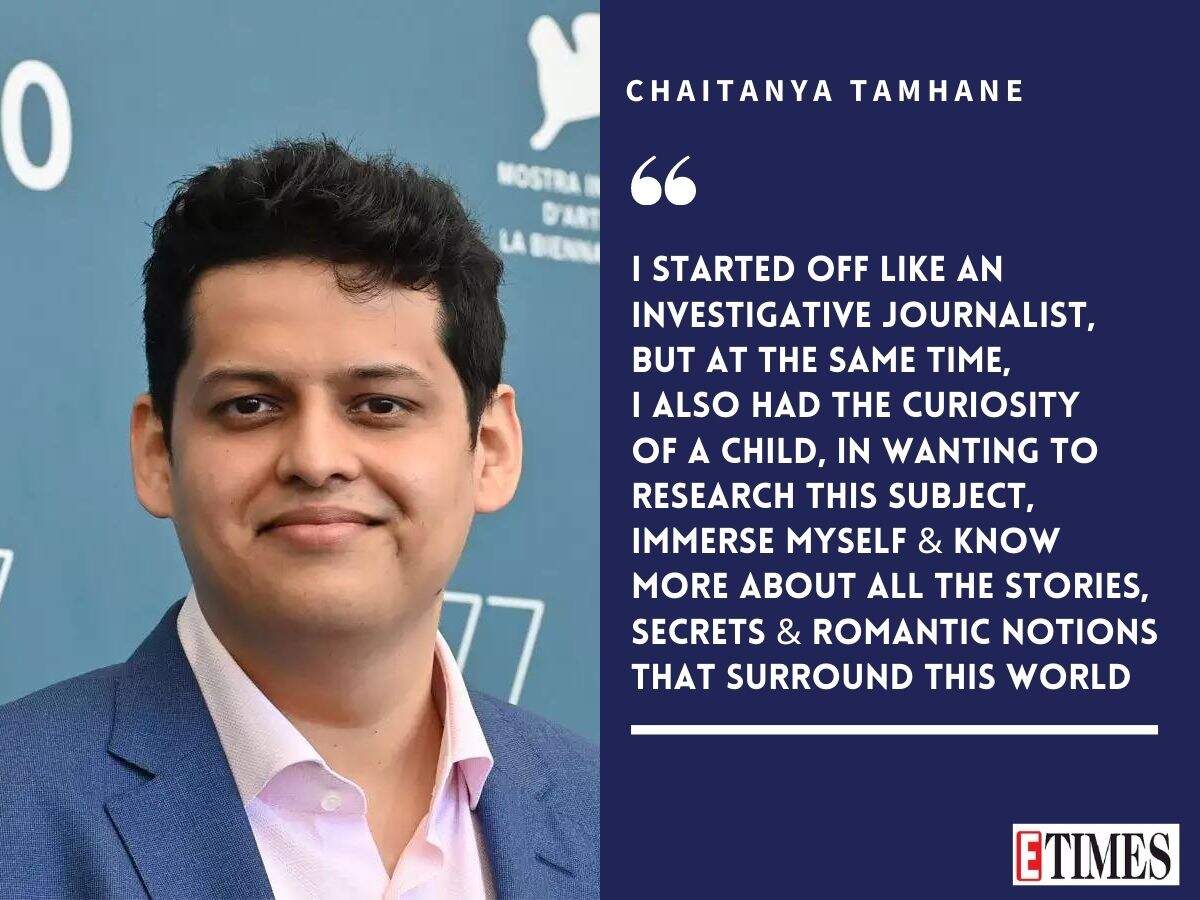 Here, it's kind of tricky to say what is pure and what is traditional as every art form is constantly evolving, and its practitioners are also a product of the society that they live in. I eventually realised that there are certain nuances and contradictions, which are absolutely unique to this field. Slowly something evolved in fitting my story, which also fit the journey of the character.
And then, in the final stage, it had to be tied in with something deeply personal, like my own concerns and my own mess. All of this was very interesting for me to explore and to observe, as an outsider.
Sharad's character seems very scattered. One cannot make out what he feels, but there are moments when he drives the motorcycle listening to Maai's recordings, which let the viewers breathe and understand his thought process. As a director, was it a conscious decision to provide those pauses?
Yes, true. Even though Sharad is anchored to this one monomaniacal passion of wanting to be a good musician, the way I look at it, no human being is uni-dimensional. We all behave differently with different people. Sharad is a little more sort of aggressive with his grandmother, and on the bike rides, he is in his own cocoon, where he has completely surrendered to those learning and recordings, allowing him to get in touch with an ideal version of something that he aspires to be; with his friends, he is different, with Kishore, he's different.
I think no human being, in that sense, if seen as an actor, is straightforward. So, I wanted to explore that and see Sharad behave in different contexts and situations.
Is it a coincidence that both
Sharad and Vinay are so similar?
Wow, that's an interesting observation. I've actually never thought about it. Because in my head, 'Court' and 'The Disciple' are two very different films. I would say the latter is centred more around one character and is more subjective in dealing with the internal workings of an artist's mind, as opposed to the former, which is more about society and it's like observing a collective.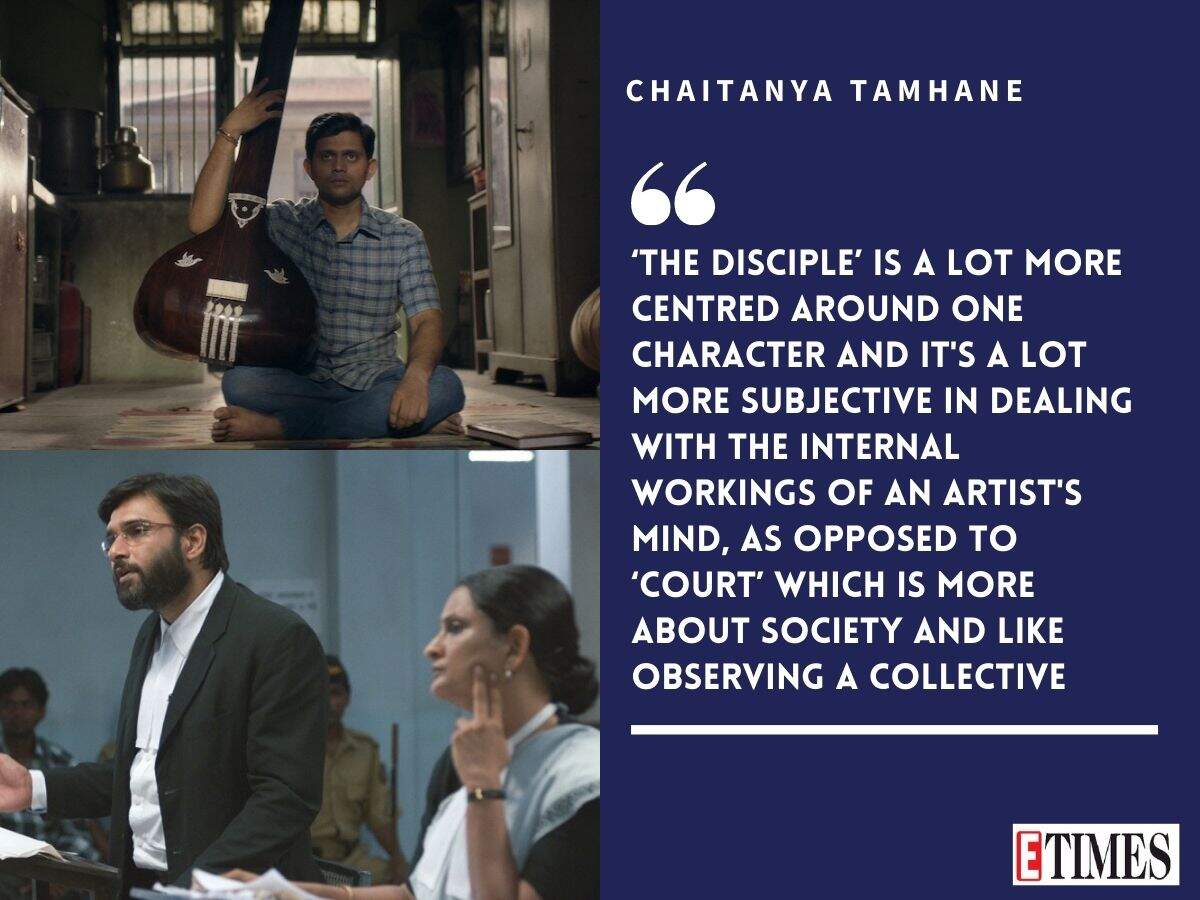 But I guess that could also do with my own way of looking at the world, because I have never been able to build two different vectors for a situation. I've always looked at my own self by somebody, who's just trying to manage, to not humiliate themselves or embarrass themselves, by just hanging in there, so I don't know, maybe it's something subconscious.
In a country like India where commercial content rules, is it challenging to place your craft in front of the audience as an independent filmmaker?
Honestly, it's a big challenge. Because what happens is, even if you get appreciation from certain sections in the society when your work is out, it's just very, very difficult to raise finance again, for the new one. Only I know, the kind of difficulty we faced in raising finance for 'The Disciple' even after the warm reception of 'Court' in India, and I also feel that if I try to raise funds from India, after my last film, it is still going to be a very, very difficult task. So, that definitely is a problem, especially if you're working out of Mumbai, which is the capital of the entertainment industry. It is like a 'flash in the pan' in a way. Even though I'm very grateful for how my film is being received. And again, it came out at a time when there isn't that much coming out and people are at home; if this was non-pandemic times, it would be fighting with 20 other titles for attention.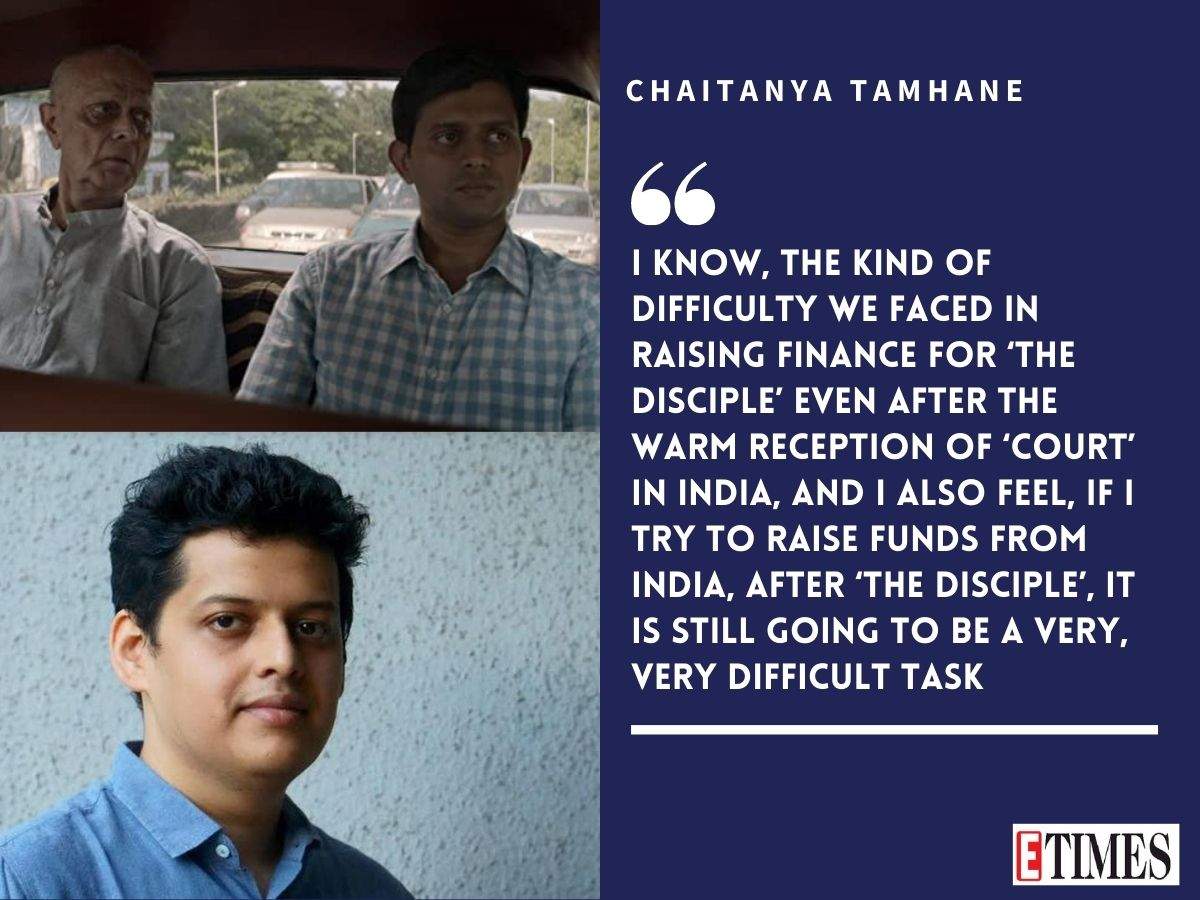 The kind of resources these bigger projects or bigger titles have, it is definitely always going to be challenging to survive in what is predominantly a very commercial market.
You are surely paving the path for independent cinema in India. Do you think there's a newfound pressure to live up to that mark?
I don't feel pressured in any way, because I am on my own artistic journey, and I'm still trying to find my voice. I don't think of my work in those frameworks of art houses, or independent, or commercial. Still, there's a lot to improve (laughs). I do what I feel like doing, what I believe in. If tomorrow I feel like doing a commercial film, I'll do that. I don't get too bothered with expectations and perceptions. I am constantly learning, reinventing myself, and giving my best.
You started with writing TV soaps back in your teens. And you had earlier shared there was a point when you were on the verge of giving up on your life. What kept teenage Chaitanya patient?
Those were two separate timelines, you know. I was not as depressed as when I was writing for TV. This was after I decided to quit all of that, to follow my eagerness to make my own film and create my own work. That is when the problem happens. As long as you're there to serve the machinery, you're good, you can make good money. The minute you want to do something unconventional, problems start; you don't find support. But again, even when I was writing television, it funded my training in filmmaking in the sense because I only learned filmmaking by reading books and watching a lot of world cinema. I did it only for a year, and that's good because otherwise, I might have gotten too used to the money.
When I was around 23, I had already done three projects of my own, and was discovering the joy of creating your own work and finding your own voice, but it hit a roadblock. What kept me going was my friend Vivek Gomber, who produced 'Court' and 'The Disciple'. He was the one who financed the development of the script of 'Court'. He has this undying faith in me and my work; we've had a long fruitful association ever since.
A lot of aspiring filmmakers must envy the fact that you have been mentored by Alfonso Cuaron…
He's really one of the world's best filmmakers and an absolute master. I couldn't believe my stars when I was told that I've been finalised as the protege. The process of learning from him is an ongoing one. Even though the actual program lasted for maybe two years, we've known each other for the last five or six years where every day I've been learning something new from him and not just about cinema. Having been mentored by him, I've learned a lot about a filmmakers' life, what our worldview should be towards successes, failures, and how to protect creative impulses. I also learned how one can protect one's intuition and voice by staying on the path and not getting distracted, and at the same time being pragmatic and practical.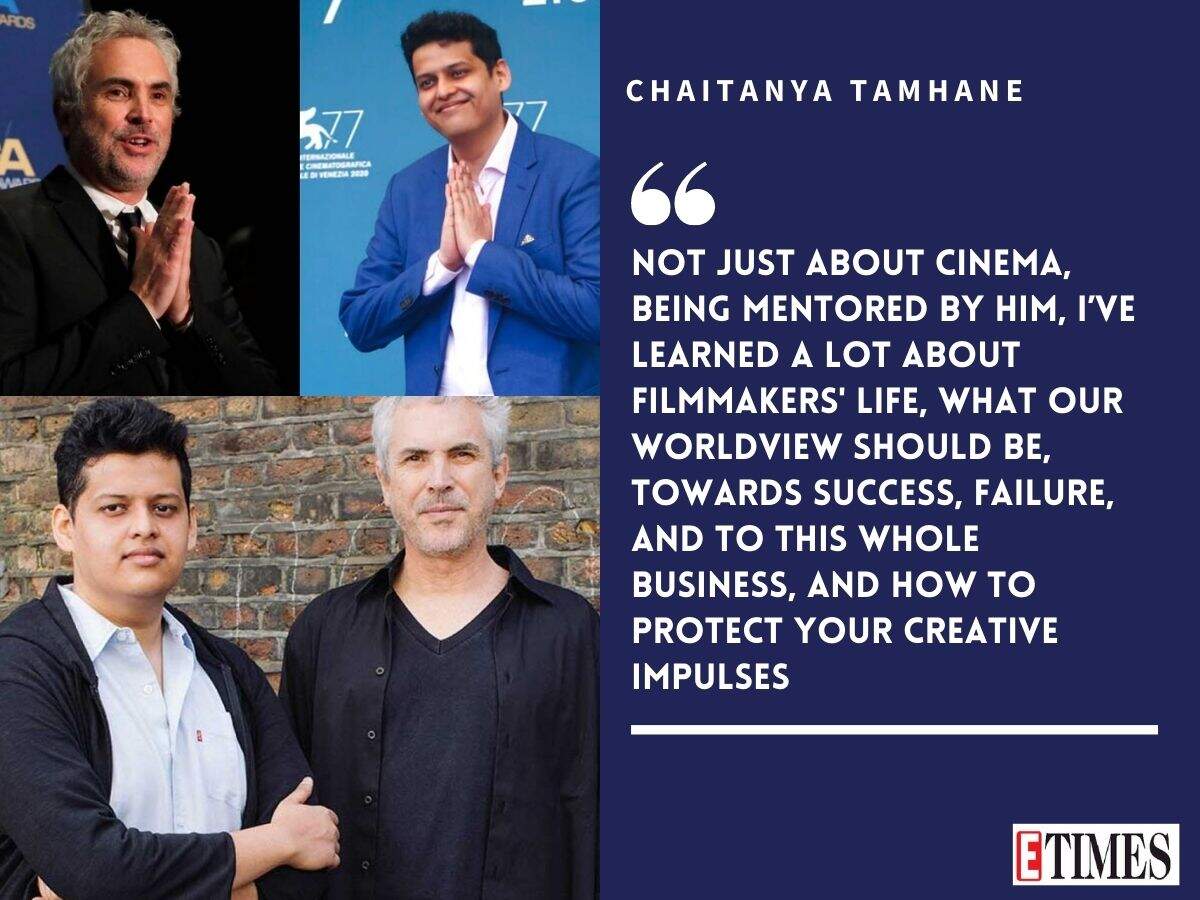 But if I had to tell you the one thing that I've learned from him that I want to cherish for the rest of my life, it would be the ability to be fearless, ask questions, and not limit yourself in your own head.
There are a lot of budding filmmakers looking up to you. One message for them…

Well, I would tell them to focus on the process, and not the reception to the films and not what the press writes, or the awards, or the festival. Just focus on the process and the work itself. The rest of it relies on many different variables like luck, being at the right time at the right place, and other people's tastes. That is the part we can't control and we should not be focusing on.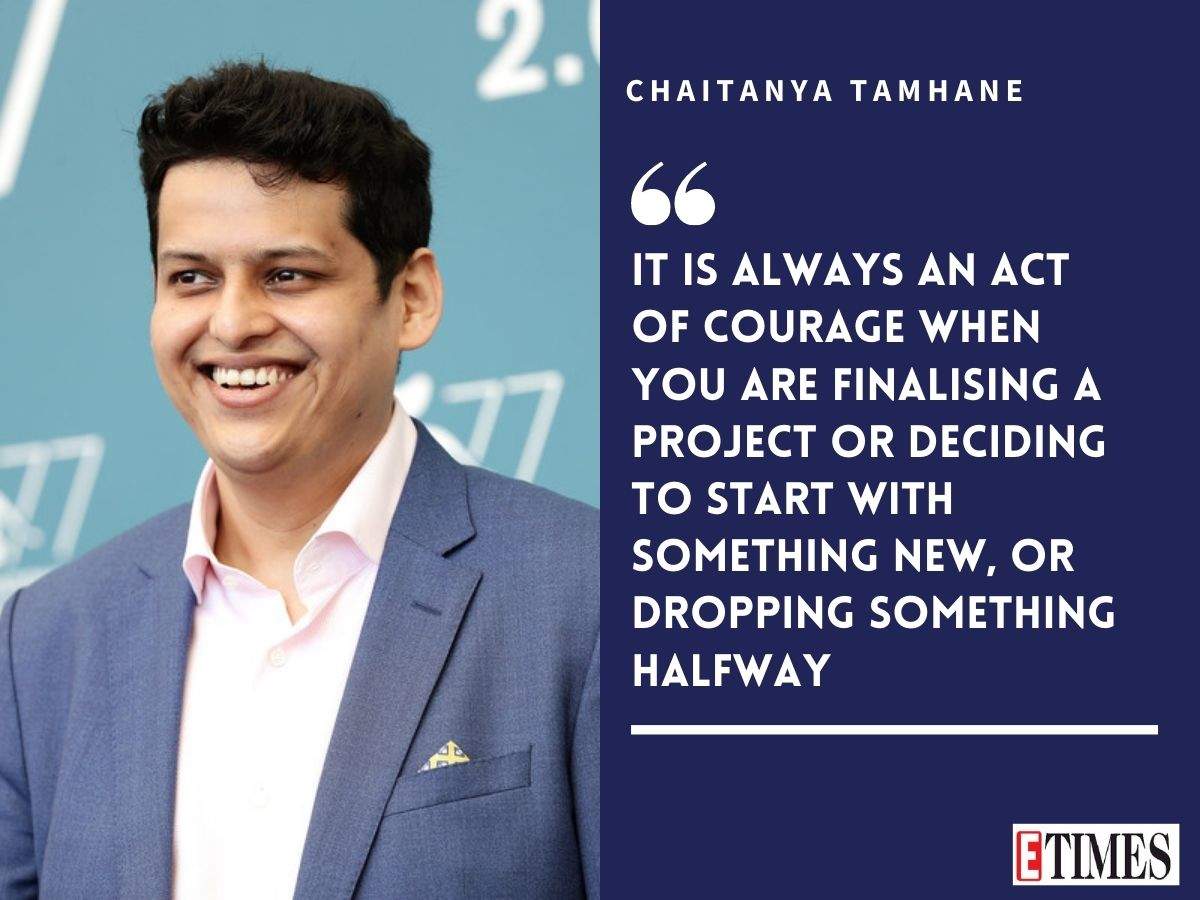 So I would say rather than having a result-oriented or success-oriented outlook, have a process-oriented outlook, regardless of the results. It's very applicable to me as well. Even if you want to look up to something, look up to the work and not the reaction to it.
You were initially engaged with another project when you acknowledged this newfound love for classical music, and you immediately started working on this. As a director is it okay to make impulsive yet conscious choices?
(Laughs) It's okay to trust your instincts. Of course, there was fear. It is always an act of courage when you are finalising a project or deciding to start with something new, or dropping something halfway. It's always, for me, an act of courage and a process of overcoming my fears, but at the same time, it's not really an option you have, because these stories pull you towards themselves, and I couldn't in a way help but follow my impulse. It's way out of my control. So I just have to listen to it and be present in the moment.

Source link