After fondly revisiting precious memories with late actor Sushant Singh Rajput on his 1st death anniversary, the late actor's ex-girlfriend and actress Ankita Lokhande has no shared a note on love.
It read, " "You speak so highly of him", he said to her. "Why do you do that? Why do you speak of him as if he put the stars in the sky when he did nothing but break you so god damn much that the cracks in your hearts were practically visible through your eyes." She laughed, "that's the thing about love, isn't it? You'll let them get away with murder, even if it's your own," ". Have a look: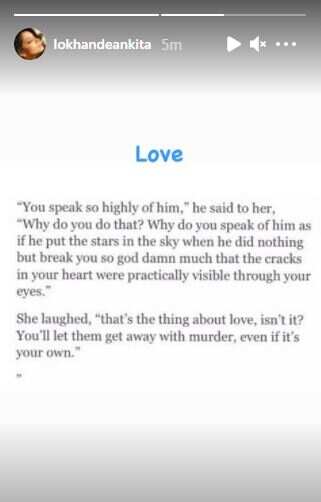 Interestingly this post came after Ankita shared old video clips of herself with Sushant and wrote, "14th June 💔 This is who he was !!! Thankyou Sushant for your part in my journey 👋 See you again till we meet again 👋 Phir milenge chalte chalte 🙏🏻 Good bye." "14 June 💔This was our journey !!!! Phir milenge chalte chalte✋" she added in another post.
Ankita has also shared a priceless video of late SSR from their Diwali celebration in 2011 where the two are seen having a great time. Apart from his, Ankita has also held a havan at her residence today.
Sushant Singh Rajput breathed his last on 14th June last year as he was found dead at his apartment in Bandra, Mumbai. While the CBI is still investigating his death case, the agency has stated today, "CBI investigation related to the death of actor Sushant Singh Rajput is still continuing and all the aspects of the case are being looked into meticulously."
Meanwhile, fans and Bollywood actors are dedicating heartfelt posts and reminiscing memories of Sushant on social media. The late actor's girlfriend, Rhea Chakraborty has also penned down a heartbreaking note for him.
Source link