Recently Park Myung Soo during his radio program touched upon trending events in the Korean industry, including the breaking news of actor Lee Seung Gi confirming his relationship with actress Lee Da In.
Coming out in support of the new couple, he said, "Whether or not they wanted it to become public, it's been revealed. Since it happened, I want it to go well and would like to see them get married."
However, this positive comment did not go down well among the fans and the comedian became the source of severe backslash on the internet reportedly. Soon Park Myung Soo's social media accounts were flooded with comments slamming him for his support towards the couple.

Calling Park Myung Soo's reaction 'inappropriate' as he 'overstepped', a Korean entertainment outlet quoted fan comments as such, "Park Myung Soo-sshi, as an entertainment sunbae (senior, more experienced), you should use discretion. You shouldn't have mentioned Lee Seung Gi and marriage. Don't you know that the public is upset because of his girlfriend's family. I'm really disappointed."
"Don't you think the Seung Gi portion was a big mistake? There's been an outrage ever since he became intertwined with a criminal family, but you want them to get married? As a sunbae, do you think it's appropriate to give him that kind of advice? This is infuriating".
"Myung Soo-sshi, I think you may have overstepped with this one. I think you should use discretion before speaking publicly…the entire nation is worried about it, but why would you share supportive messages?" added another.
Have a look: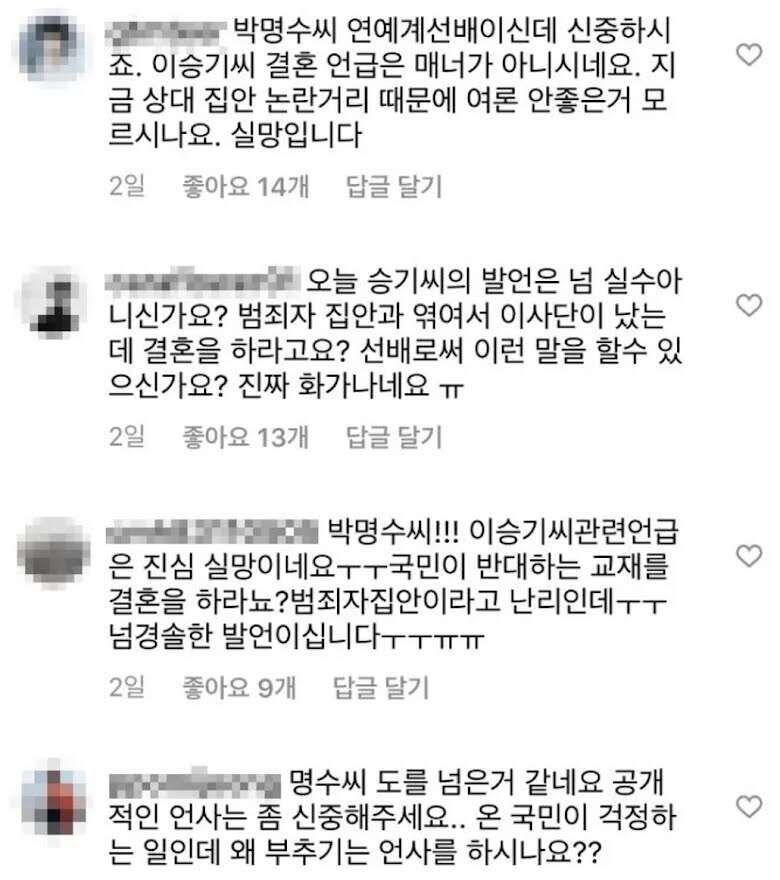 Ever since talent agencies of Lee Seung Gi and Lee Da In confirmed their relationship, fans were spotted upset. In fact, a fan-funded van was also spotted outside the actor's house as a sign of protest against his relationship.
For the unversed, the protest against Lee Seung Gi and Lee Da In sparked due to the actress alleged 'criminal' family background.
In 2014 Lee Da In's stepfather Lee Hong Heon was sentenced to four years of imprisonment with a hefty fine of $2.5 billion USD for allegedly manipulating stock prices with false disclosures.
Source link